Community Development Strategy
COMMUNITY DEVELOPMENT STRATEGY
Beyond its cement manufacturing process, CMIC carries out sustainable development projects in the surrounding Kampot communities of Banteay Meas, Angkor Chhey, Dang Tong and Kampong Trach. CMIC contributes to improving the livelihood and well-being of these targeted communities, in addition to promoting safety and harmony between the communities and the company. This assists us in reaching our sustainable development goals.
Approach :
We use a participatory approach: listening to the voices of the communities and boosting their engagement, while working with relevant experts, NGOs and local authorities to achieve our joint goals. Below are our steps for implementing community development projects.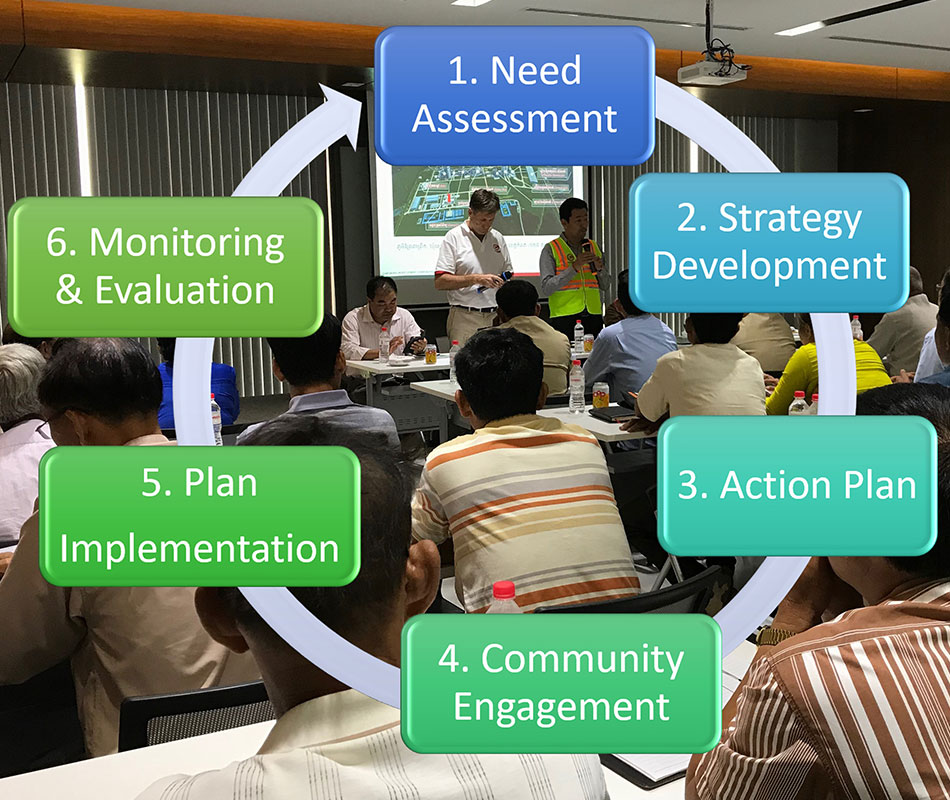 Safety and Health
CMIC is committed to promoting safety and health within its targeted communities. To facilitate this, we :
provide safety and traffic education, together with helmets and fire protection training
support the communities' referral hospitals and health centres and,
run health campaigns and health check-up events
Water and Nature
CMIC believes that clean water and a healthy natural environment are vital for a community's sustainable development. We therefore :
restore and dig canals, ponds and wells for community and agricultural use
build drainage systems to alleviate the possibility of flooding
provide water tanks
Clean & Green Schools
Clean and green schools are not only good for the learning environment but also for communities as a whole. In the light of this, CMIC :
helps make schools cleaner and greener
raises waste management and environmental awareness
supports Water and Sanitation, Hygiene (WaSH) projects
Heritage and Culture
CMIC recognises the value of Cambodian culture and its role in society. For this reason, CMIC :
supports various social and cultural events
helps preserve and promote cultural heritage
Infrastructure
It is undeniable that improved infrastructure is the key to enhancing the livelihood of communities, so CMIC :
improves community infrastructure, such as repairing roads and building new ones
Economy
Another way to develop communities is to enhance their economy. To achieve this, CMIC :
prioritises local communities for vocational training and employment opportunities, wherever and whenever possible
allows local food-related business to sell their food and soft drinks at the plant's canteen
runs crop and animal husbandry projects
Education and Sport
Education is the key to sustainable development, helping families keep their children in school, instead of being forced to send them out to work. Along with other social welfare development programs, CMIC :
provides Chip Mong Insee Scholarship to disadvantaged yet outstanding students
sets up "Real Science Clubs" at schools
supports sporting activities and the creation of new facilities
Others
CMIC also supports other projects proposed by local authorities, the communities and relevant stakeholders that are designed to meet social needs.
As part of our mission to achieve our sustainable development goals, CMIC always pays close attention to our stakeholders and the level of engagement they have with us. The strength of this relationship is crucial and one of the keys to the success of our business.
As part of enhancing stakeholder engagement, we conduct monthly, quarterly, semesterly and annual meetings with our key partners, in order to update them about our activities and to listen to their requests and any concerns.
We therefore work very closely with our various stakeholders, as shown below.